Ronnie Moss, Founder, Borneo Benar
Founder's Message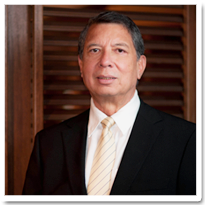 About 14 years ago, I progressed from being a manufacturer of sundry timber products to the specialized business of manufacturing timber products for resort building, I realised that if we were to give the client a good deal in terms of costs and meet tight project deadlines we had to be technologically innovative in all phases of the project.
To achieve that, we had to control the entire process from acquiring the raw materials to manufacturing the components, the logistics and finally, installing the components. This also had to be done in container friendly modular and prefabricated kits as far as possible to cut down on site installation time. I can proudly say that we have achieved these goals and are now an effective one-stop resort builder.
I had also discovered that it takes a tremendous amount of team effort to plan and build¬ a resort on time on a remote island be it 3 star or 5 star plus. Very little can be accomplished when there is no cooperation and mutual trust at all levels of the process. And I'EUR(TM)m glad to say our success is due a great deal to the cooperation and trust we have received from our clients in the many projects we'EUR(TM)ve been involved in over the years.
I'EUR(TM)m very grateful for that and for the investors and developers who have supported us and have given us the opportunity to show what we can accomplish over the past years and I hope in the years ahead.¬ Not forgetting our partners, suppliers and contractors who have contributed to our achievements with their loyal support and efficient service. Most of all I am proud of my dedicated team at Borneo Benar Malaysia, Borneo Builders Maldives, ¬ Borneo Build and Supply Malaysia and our Offices in the Seychelles and Colombo who have stood by me even in the most difficult circumstances.
To all of you I offer my sincere thanks.¬
Ronnie Moss